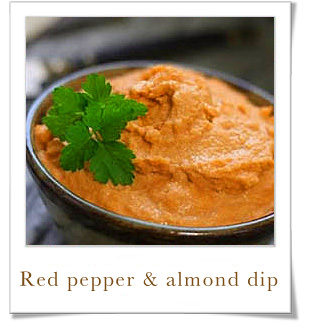 Red pepper and almond dip


Ingredients
* 1 Large red pepper
* 2 cloves garlic, (unpeeled)
* 125g flaked almonds
* 4 tablespoons red wine vinegar
* 170ml olive oil
* 2 tablespoons finely chopped parsley
* Salt and coarsely ground black pepper
Method
Preheat the oven to 180°C
Cut the pepper in quarters and rub with olive oil, as well as the garlic cloves. Place skin side up on a baking sheet in the oven and bake until blackened. Cool and remove the skins from the peppers and garlic.
Place the almonds on a baking tray and spread evenly. Toast until lightly golden. Set aside to cool off for 5 minutes.
Place the peppers, garlic and almond flakes in a food processor. Process until smooth.
Add the red wine vinegar and mix in processor on a lower speed.
Add the salt and coarsely gound black pepper and mix. Gradually add the olive oil and mix thoroughly. Add 3 tablespoons of water and mix again. The mixture should have the consistency of thick yoghurt.
Add the chopped parsley and mix briefly.