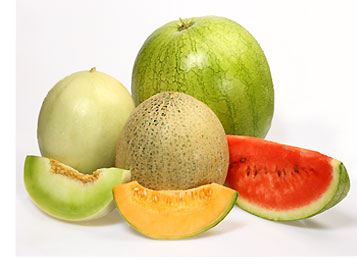 Melons

Muskmelon and Honeydew melon are cultivated all year round, therefor Schulpad Boerdery plants new seedlings every week of the year. In summer fruit can be harvested within 8-10 weeks from planting date, and in winter 12-14 weeks from planting date.  
In summer time melons grow bigger than during the winter months, therefor different varieties and planting methods are incorporated for the different seasons to manipulate size throughout the year.  
Schulpad continues to do trials on new varieties , as to establish the best variety for their unique conditions , i.e. which fruit tastes best, which fruit has the best shelf-life and the most appealing appearance. Certain varieties produce better results in summer and others again in winter. Thus different varieties are planted for almost every season of the year as to optimise their potential.  
Seeds are currently sourced from Europe and the USA.  
Muskmelon Varieties:

Summer : Caribbean Gold, Jemma
Winter :  Touchdown, Delightful, Star 8815, AcutFresh  
Honeydew Melon Varieties
:
Summer : Summer Dew , Honey Chow
Winter : Honey Pac